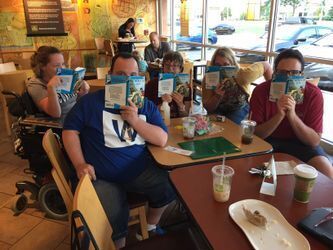 What is the Next Chapter Book Club? 
Teens and adults with developmental disabilities reading and learning, making friends, and enjoying a fun community gathering place.
---
We currently have two book clubs meeting:
2:30-3:30 pm at Velvet Robot (116 N. Madison St. Rockford, IL) & 6:30-7:30 pm at Beef-a-Roo off Rt.173 (4601 Adamson Ln. Machesney Park, IL) New members are encouraged to RSVP at 815-965-3455. Feel free to drop in to check out the club; there is no obligation to join, but you will probably want to become a member! 
Why join the Next Chapter Book Club? 
NCBC members improve literacy skills, make friends, take part in the community, and have a lot of fun doing it!
---
How does it work? 
Members meet the second and fourth Mondays for one hour at a coffee shop to read and discuss a book of their choosing.